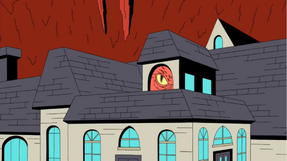 Violet Boneraper is the mother of Twayne, Twilliam, Twarren, Twalter, Twinston, Twallace, Twatson Boneraper. All of whom were fathered by: "Scott [no last name]". Violet Boneraper was also betrothed Aldermach Maggotbone, Aldermach left Violet at the alter and had a shotgun wedding with Rosie, which resulted in the birth of Callie Maggotbone and her sister Lilith. In order not to be destroyed by the Boneraper family Aldermach made a blood pact that his daughter would marry Violets only surviving son; Twanyne.
It is suggested that she is dead in Hell for the Holidays where one of the guests during the Samhain dinner in hell, points out to Mark Lilly, when Twayne apologises for his mother's absence, that she has been "suffering from the same illness for 3 years." This would imply due to the amount of time Twayne spends on the surface, he hasn't found out, and the other demons don't care about him enough to tell him.
Ad blocker interference detected!
Wikia is a free-to-use site that makes money from advertising. We have a modified experience for viewers using ad blockers

Wikia is not accessible if you've made further modifications. Remove the custom ad blocker rule(s) and the page will load as expected.