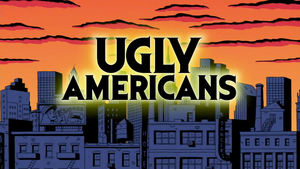 Ugly Americans is an American animated television series created by Devin Clark, developed by David M. Stern and directed by Devin Clark and Aaron Augenblick. It was spinned off from a webseries by Devin Clark entitled 5-On with Alan Whiter. Daniel Powell serves as executive producer and Aaron Augenblick is supervising producer and animation director.
The show premiered on March 17, 2010 on Comedy Central. The 1st season includes 14 episodes where the first seven episodes was picked for in May 2009 with an additional seven renewed in October 2010. The 2nd season has a total of 17 episodes with the first ten premiered on June 30, 2011 and the last seven episodes returned on Wednesday, March 14, 2012 at 10:30 p.m.
Background
Edit
The series focuses on a young social worker, Mark Lilly, at the Department of Integration (DOI) in an alternate version of New York City inhabited by both human and a wide range of monsters and other creatures.
Main Cast and Characters
Edit
Main article: List of Ugly Americans species
There are a huge diversity of species living in New York City. Their welfare and management is maintained by the Department of Integration. All the species in the city have their representatives in the General Assembly.
While human is the prominent species, some other species are also frequently seen in the city. Some of the most common species include demon, wizard, manbird, zombie, werewolf and robot.
Main article: List of Ugly Americans episodes
External links
Edit