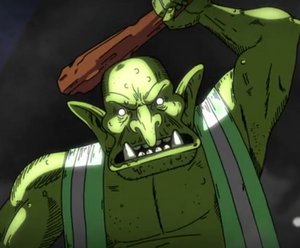 Trolls are giant green creatures with pointy ears and large teeth in Ugly Americans.
A troll, Quaggle, appears in the episode "Trolling for Terror". He usually speaks in rhyming riddles, and has little knowledge about the culture in the United States.
A female troll is seen in some pictures in "So, You Want to Be a Vampire?". Francis Grimes shows Mark Lilly photos of Mark drunk and fooling around with a female troll and blackmails him into digging up dirt of Blake.
Appearances
Edit
External links
Edit
Ad blocker interference detected!
Wikia is a free-to-use site that makes money from advertising. We have a modified experience for viewers using ad blockers

Wikia is not accessible if you've made further modifications. Remove the custom ad blocker rule(s) and the page will load as expected.