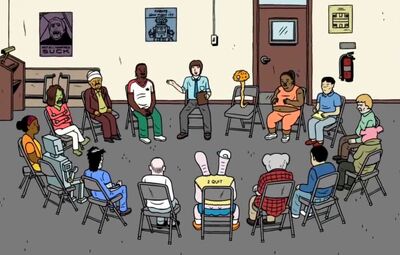 Mark Lilly runs a class for the new immigrants, and sometimes integration law offenders and their victims, at the Department of Social Services. While one time a plaque labeled "Group Counseling" is seen on the wall outside the classroom in the episode "Mummy Dearest", Mark and others simply call it "Class" throughout the series. And thus Mark calls everyone in the class his students. Mark's class is where most stories in the series take place, and many students are recurring characters in the show.
Purposes of the Class
Edit
The class comes into being when the Social Services Department's budget is severely cut down by Twayne Boneraper, and Mark is forced to put all the immigrants he is responsible for together in a group simultaneously where he helps them integrate in the society and become U.S. citizens. In the class, Mark often provides social and cultural information of the United States in the Ugly Americans universe to help the immigrants understand the different aspects of American life.
Apart from providing support to the immigrants, Mark's class often receives law-breakers and victims in species-related issues who have been sentenced by the court to go through counseling or training at the Social Services Department. They have to participate in the class with everybody else. Sometimes, Mark's class also help with other species' problems, such as difficulties in dragon mating.
Apart from indoor sessions in the Social Services Department, Mark takes the class to outings every now and then, such as a tour to Hell led also by Callie Maggotbone, a field trip to the Museum of Natural History for the manbird exhibition, and leaving the city for a summer camp by the side of Mt. Magic. Sometimes Mark organizes or joins competitions, such as cooking and football, for the class.
Apart from attending Mark's class regularly, these students also participate in the class's activities more actively. They often express their opinions or emotions in the sessions.
While these students attend the class regularly, they are not as often to give opinions during class sessions.
Occasional or once
Edit
Law offenders
Edit
Episode Absences
Edit
While the class may not be present, its students always appear in each episode, except for "Blob Gets Job", where Mark takes a day-off and none of the students is seen in the episode.
Ad blocker interference detected!
Wikia is a free-to-use site that makes money from advertising. We have a modified experience for viewers using ad blockers

Wikia is not accessible if you've made further modifications. Remove the custom ad blocker rule(s) and the page will load as expected.