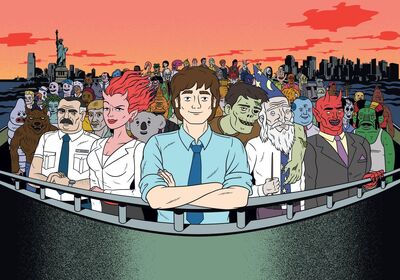 Ugly Americans has a long list of different obscure species. Most of these species stem from folklore, modern fantasy works, horror movies, science fiction or ancient mythology, and some are intelligent and talking versions of real plants and animals in the world. But there also are a notable amount of original species created by the show.
The Department of Integration's duty is to help these species integrate in the modern society. While the more common ones may appear in the series regularly, some of the species may only appear in one or a few episodes. Each of them serves as a "monster of the week" that is elaborated in one episode but is seldom or never shown again afterwards.
All the species in New York City have signed the New York Integration Treaty, which is enforced by the DOI, to uphold the peace among themselves. Their representatives form the General Assembly. ("The Roast of Twayne the Boneraper")
List of Species
Edit
Note: Some of the following species have never been named explicitly in the show, so their names are not official and may be subject to change.
Species
Appearances
Episode Examples
Character Examples
Amoeba
Recurring
Treegasm
The blue amoeba and green amoeba
Angel
Minor
Ride Me to Hell
Dishonorable Discharge angel
Ant people
Focused once
Journey to the Center of Twayne
Jerry McMillan and his father
Arm horns
Scarce
Lilly and the Beast
In Mark's class
Ass head
Recurring
The Stalking Dead
Abscess Hollywood's male host
Atlantean
Focused once
Mark Loves Dick
Rusty
Bacterium
Focused once
Journey to the Center of Twayne
Princess Chlamydia
Bat boy
Focused once
The Dork Knight
Bruce
Bear
Minor
Wet Hot Demonic Summer
The bears which Grimes joined
Bee people
Scarce
Trolling for Terror
In the bar
Belly arms
Minor
Kong of Queens
Twayne's limousine driver
Blob
Focused once
Blob Gets Job
Blob (character)
Buddha
Recurring
An American Werewolf in America
Buddha
Bunnycorn
Minor
So, You Want to Be a Vampire?
Bunnycorn janitor
Carrot people
Scarce
The Roast of Twayne the Boneraper
In the General Assembly
Cat burglar
Focused once
The Dork Knight
Sabrina Maroney
Chicken people
Scarce
Pilot
In the sweatshop
Chupacabra
Scarce
Kong of Queens
Franco
Clone
Focused once
Attack of Mark's Clone
Clone Mark
Crocodile people
Minor
Pilot
Crocodile lady
Cyclops
Minor
Treegasm,
Better Off Undead
Bob Sanchez,
Krystal's cyclops boyfriend
Demon
MAIN
All episodes,
Hell for the Holidays,
Ride Me to Hell
Aldermach Maggotbone,
Twayne Boneraper,
Callie Maggotbone (half-demon)
Demon snake: Slitherax
Focused once
Ride Me to Hell
Slitherax
Dog people
Scarce
The Roast of Twayne the Boneraper
In the General Assembly
Dolphin people
Scarce
Sympathy for the Devil
Marla
Dragon
Focused once
The Ring of Powers
Victoria
Elephant people
Scarce
Pilot
Outside the Department of Integration
Elephant trunk people
Scarce
Callie and Her Sister
A wedding gift salesman
Eyeball head
Scarce
The Roast of Twayne the Boneraper
In the General Assembly
Facegina
Minor
Pilot
Angie
Faerie
Minor
Trolling for Terror
Galen
Fish people
Recurring
An American Werewolf in America
Toby
Flamingo people
Scarce
Demon Baby
A flamingo man who sees Callie lactating fire
Flower head
Scarce
Trolling for Terror
In the bar
Frog people
Scarce
Lilly and the Beast
In Mark's class
Genie
Scarce
Little Ship of Horrors
Two genies outside the Department of Integration
Ghost
Scarce
Lilly and the Beast
A typical ghost and a dog ghost passing by Mark's building
Giant baby
Minor
An American Werewolf in America
Giant Baby
Giant cockroach
Scarce
The Ring of Powers
One carrying a suitcase in a subway station
Giant flytrap
Minor
Little Ship of Horrors
Mr. Rothman and his son
Giant sandwich
Scarce
The Roast of Twayne the Boneraper
In the General Assembly
Giraffe neck
Scarce
Any Given Workday
Gerard
Giraffe people
Scarce
The Roast of Twayne the Boneraper
In the General Assembly
God
Minor
Mummy Dearest
Anubis
Goose people
Focused once
The Roast of Twayne the Boneraper
Goose Kevin
Gorgon
Recurring
Kong of Queens
Medusa
Hand head
Minor
Pilot
A door salesman
Haunted house
Focused once
Hell for the Holidays
Haunted house (character)
Hoblet
?
?
?
Hologram
Recurring
Kill, Mark... Kill!
Melchior (Leonard's hologram)
Hook people
Minor
An American Werewolf in America
Hook man
Horned wolf people
Scarce
Mummy Dearest
One who beats up Mark twice
Human
MAIN
All episodes
Mark Lilly,
Francis Grimes,
Croatian Man,
Callie Maggotbone (half-human)
Hydra people
Scarce
Soul Sucker
In the disco
Jelly people
Scarce
The Roast of Twayne the Boneraper
In the General Assembly
Joint-head
Minor
The Dork Knight
Harlan/Melvin
Koala people
Recurring
Callie and Her Sister
Doug
Kong
Focused once
Kong of Queens
Kong (character)
Kraken
Focused once
Mark Loves Dick
The Kraken
Land whale
Scarce
Pilot
Shown on news in a land whale collision
Leprechaun
Scarce
Kill, Mark... Kill!
In the slideshow in Mark's class
Lightbulb head
Scarce
The Roast of Twayne the Boneraper
In the General Assembly
Mailbox head
Scarce
The Roast of Twayne the Boneraper
In the General Assembly
Manbird
Recurring
The ManBirds
Arturo and Albert
Mantis people
Scarce
The Roast of Twayne the Boneraper
In the General Assembly
Mermaid
Minor
Kill, Mark... Kill!
Leonard's date
Merpeople
Focused once
Sympathy for the Devil
Sammy Fitzpatrick
Moai
Recurring
Demon Baby
Moai (character)
Mummy
Focused once
Mummy Dearest
Francis Grimes' mother
Mushroom (intelligent)
Scarce
The Roast of Twayne the Boneraper
In the General Assembly
Necromancer
Scarce
Pilot
Garrison
Party head
Minor
The Roast of Twayne the Boneraper
Joyce
Penguin people
Minor
The Dork Knight
Oswald
Phallusoid
Scarce
Journey to the Center of Twayne
Dickhead
Pig people
Minor
Callie and Her Sister
With Randall in Mark's room
Potato people
Scarce
An American Werewolf in America
In the documentary played in Mark's class
Pumpkin head
Scarce
The Roast of Twayne the Boneraper
In the General Assembly
Reaper
Scarce
The Roast of Twayne the Boneraper
In the General Assembly
Robot
Recurring
Soul Sucker
Erik, J9
Scuba people
Scarce
The Roast of Twayne the Boneraper
In the General Assembly
Shark people
Scarce
Demon Baby
In Mark's class
Skeleton
Minor
An American Werewolf in America,
Mummy Dearest
In-Between World guide,
Grimes' mother's ancestors' army
Skink people
Scarce
The Roast of Twayne the Boneraper
In the General Assembly
Squash head
Minor
Hell for the Holidays
The family threatened by Grimes in Halloween
Squid
Scarce
Pilot
Billy
Succubus
MAIN
All episodes,
Demon Baby,
Treegasm
Callie Maggotbone
Thought-monster
Recurring
Sympathy for the Devil
Great Brain, Dolores
Treeture
Focused once
Treegasm
Neil and Nicky
Tree (intelligent)
Scarce
The Roast of Twayne the Boneraper
In the General Assembly
Tree head
Recurring
Kong of Queens
Rick
Triclops
Minor
The Roast of Twayne the Boneraper
Three Eyes
Troll
Focused once
Trolling for Terror
Quaggle
Two-headed worm creature
Recurring
Better Off Undead
Martin
Unicorn
Scarce
An American Werewolf in America
In the documentary played in Mark's class
Unicorn people
Scarce
The Roast of Twayne the Boneraper
In the General Assembly
Upside-down head
Minor
Kong of Queens
Zombie Body Shop guy
Vampire
Recurring
So, You Want to Be a Vampire?
Blake
Warlock
Scarce
Pilot
Krystal's warlock boyfriend
Werewolf
Recurring
An American Werewolf in America
Phil and Matthew
Wizard
MAIN
All episodes,
Wet Hot Demonic Summer
Leonard Powers
Yeti
Minor
Blob Gets Job
Mark Lilly's roommate
Zombie
MAIN
All episodes,
Better Off Undead
Randall Skeffington
Characters of Unidentified Species
Edit
| Characters | Description | Episode Examples |
| --- | --- | --- |
| Bert | A giant bulky humanoid creature with tiny arms and grayish green skin | Pilot |
| Karen | A creature with loose gray skin, small limbs, a huge head and a huge body | Treegasm |
| Leon | A morbidly obese humanoid with grey skin and white hair | Mummy Dearest |
| Open Mic Night's host | A humanoid with green skin, a very large mouth on top of his head, four eyes and an extra pair of arms from his neck | An American Werewolf in America |
| Tico | A humanoid with a pointy head, very long flabby ears and sagging cheeks | Pilot |