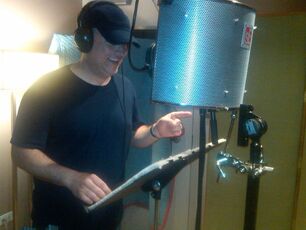 Lawrence Murphy Jr. (born 1972, in Abington, Massachusetts) is an American actor, voice actor, and comedian based in New York City.
Life & Career
Edit
Murphy began performing standup comedy in 1997 at the Comedy Studio in Harvard Square in Cambridge, Massachusetts. Soon after he teamed up with Brendon Small. Together they performed sketches & Rock Operas until 2001. Murphy's subsequent independent live work is a mix of sketch and characters. He rejects traditional styles in favor of playing with the medium.
Murphy is a voice actor renowned for his versatility. He voiced all of the main characters on the Adult Swim comedy series Assy McGee and has lent his voice to several Soup2Nuts animated shows including O'Grady, Home Movies, and Word Girl. He voices Teddy in the animated Fox series Bob's Burgers. He currently voices the hostile immigration officer Lt. Francis Grimes on the Comedy Central series Ugly Americans.
Murphy has appeared as a sketch actor on Late Night with Conan O'Brien and has a recurring role as "Jay the Doorman" on the Adult Swim live-action series Delocated.
He has toured with comedian Eugene Mirman and makes an appearance on his 2009 comedy album God is a Twelve-Year-Old Boy With Asperger's, providing the voice of Christopher Walken taking a customer service call.
Ad blocker interference detected!
Wikia is a free-to-use site that makes money from advertising. We have a modified experience for viewers using ad blockers

Wikia is not accessible if you've made further modifications. Remove the custom ad blocker rule(s) and the page will load as expected.