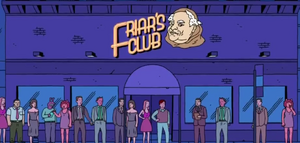 In the episode "Callie And Her Sister", Aldermach Maggotbone says that he met Callie's mother Rosie in Friar's Club a few decades ago. Rosie sold her soul to him to have a baby and so Callie was born.
At the present day, Aldermach and Rosie have sex again. Since Rosie has been getting hormone injections, it takes her only one day to be pregnant and give birth to another baby who is named Lillith. Callie and Mark Lilly find out the birth when they go to see Rosie and Aldermach at Friar's Club.
Twayne Boneraper's roast is held at Friar's Club in "The Roast of Twayne the Boneraper". Many of the staff in the Department of Integration contribute to the roast, and stand-up comedian Lisa Lampanelli makes a guest appearance at the club. But Mark's jokes go too far and cause Twayne to resign from the DOI.
Appearanes
Edit