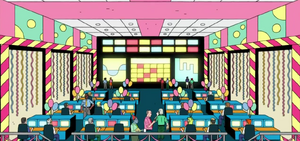 The Department of Birthdays is one of the sub-departments of the Department of Integration. It is seen in the episode "The Roast of Twayne the Boneraper". The head of the department is a humanoid man with a gift box for his head. He has an assistant Joyce who he keeps calling her "bitch".
This is the department that receives the largest amount, in fact, two thirds of the DOI funding. It is responsible for celebrating staff birthdays of the DOI. It has a card room where the birthday cards are designed and written, and readings are performed. The department has its own birthday choir. There is also a bakery where the celebrity chef Guy Fieri works.
The department is shut down temporarily when Mark Lilly takes the place of the DOI's director in the episode. The cancellation on birthday celebrations leads to the various species' withdrawal from the New York Integration Treaty and a city wide riot. The department is rebooted when Twayne Boneraper resumes his seat in the DOI.
Appearances
Edit
Ad blocker interference detected!
Wikia is a free-to-use site that makes money from advertising. We have a modified experience for viewers using ad blockers

Wikia is not accessible if you've made further modifications. Remove the custom ad blocker rule(s) and the page will load as expected.