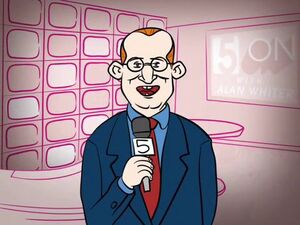 5 On with Alan Whiter, or simply 5 On, is a webseries which inspired Ugly Americans.
The webseries was directed and animated by Devin Clark, written by Nick Kroll, John Mulaney and Pete Holmes. The characters were voiced by Devin, Nick, John, Pete, Molly Sims (credited as Molly Simms) and Tom Forget[1]. It was first launched on June 27th, 2007 at CC:Studios on Comedy Central's website. 5 On was nominated for "Best Animated Video on the Web" in TV Guide's Online Video Awards in 2007.
5 On is hosted by Alan Whiter, which interviews "five of anything about everything". On each show five beings from a particular species are interviewed on street about their opinions on a current issue.
List of 5 On with Alan Whiter episodesEdit
All six 5 On episodes were also uploaded on Vimeo in 2010. Some of the Vimeo clips have new titles and some have additional footage.
+  These videos on Vimeo have additional footage compared to those from CC:Studios.
5 On with Alan Whiter episodes
on CC:Studios and Vimeo
Date
Interviewees
Interviewee Images
Aliens on Life without the Sopranos

Aliens on the Sopranos +
2007-06-27

2010-05-03

Lance Dawgnipples, alien thespian
Momatha, tourist
Blorzmak Goldfarb, sex therapist
An Alien, Paulie Walnuts fan
The Great Brain, all knower

Robots on Immigration

Robots on Immigration +
2007-07-24

2010-05-03

JM3 "Jimmy" VX-2300, factory bot (a robot similar to Erik)
David Shapiroid, immigration lawyer
Blane VanPinko, day trader
Laura Bush, mechanical woman
Insectotron, hack comedian

Demons on the Environment

Demons on the Environment +
2007-08-07

2010-05-03

Blistaal "Red" Bladecock, grocery store manager (he resembles and knows Twayne the Boneraper)
Cally Maggotbane, street fundraiser (Callie Maggotbone's predecessor)
Demon "Donald" Trump, underworld business tycoon
Nanugget The Debaser, sesspit security guard (like a chicken man)
Zalthar of the Blighted Pot, saucier

Zombies on Presidential Candidates

Zombies on Healthcare +
2007-08-14

2010-05-03

Howie Carmel, nuclear plant worker
Cathy Lynn Dwyre, home maker
Archibald Murrell, styrofoam manufacturer
Karl Backenstoss, bartender
Randal Skeffington, college student (Randall Skeffington's predecessor)

Monsters on Celebuskanks

Monsters on Celebutantes
2007-08-28

2010-05-01
Wizards on Obscene Rap

Wizards on Profanity
2007-09-04

2010-05-03
Videos Taken Down from Comedy Central
Edit
All six 5 On episodes have been taken down from CC:Studios on Comedy Central's website. However the videos on Vimeo are still available.
Transition of Characters to Ugly AmericansEdit
Some of the characters from 5 On have made their transition to Ugly Americans, sometimes with their names, appearances or backgrounds altered. For example, Callie and Randall on the TV show came from the characters Cally Maggotbane and Randal Skeffington in the webseries.
References
Edit
Ad blocker interference detected!
Wikia is a free-to-use site that makes money from advertising. We have a modified experience for viewers using ad blockers

Wikia is not accessible if you've made further modifications. Remove the custom ad blocker rule(s) and the page will load as expected.